PrintackDesigner
---
The complete label print solution
---
Intuitive software
Simple, intuitive and totally wysiwyg design interface
Smart Fit
Automatic adjustment of objects according to the location reserved for them
---
Easy positioning
Easy positioning of objects, pixel-perfect, by drag and drop or by keyboard
Multiple compatibilities
Database, Text files, Excel, Access, Dbase, Mysql, Oracle, etc...
---
White mark
The software can be integrated into another application in your colors and in your language.
Customer service
Free evaluation software on request, free training for our customers, lifetime support, etc...
---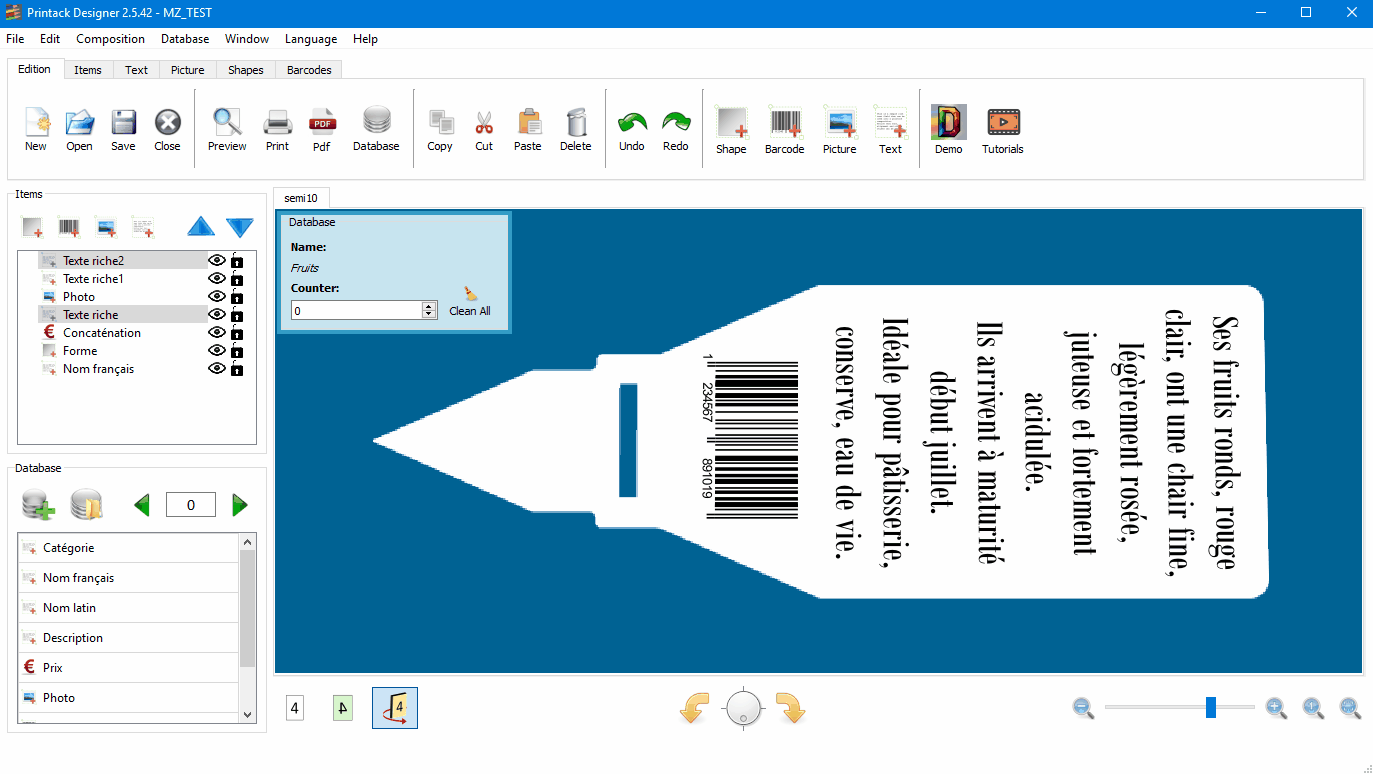 ---
This package permits micro-computer users – even beginners – to design their own labels quickly and simply, including labels displaying variable data. Producing labels using Printack's Label software is based on clear ergonomic principles.
With or without data base large choice of connections with your own datas or merchandise management system.
The label layout is presented on-screen in real time and additions and amendments can be made directly via the simple click of your mouse.
Main functional advantages
---
1. Items to figure on the label easily positioned
Alignement is easily made either justified left, right or centred
Items can be automatically positioned in pre-designated areas of the label
Items can be rotated
Backgrounds can be changed
Fonts can be changed Other properties can be changed
Variable data imported from source files can be easily combined and incorporated on the label Large choice
à bar codes Vectorial pdf printing impression vectorielle PDF
2. Variable data can be easily imported

From external files of type
".txt" or ".csv" Excel
Access
DBase
MySQL
on request : Oracle ; PostgreSQL ; SQLite ; IBM DB2 : Interbase ; Sybase ; Microsoft SQL Server ; interfaces ODBC et ADO

Possibility to integrate data bases Green X, PhS, Uhlig Kakteen, Etiflor...

Complete edition of the data bases with numerous functions for the data records : search, filter, selection, insert, copy, delete,
automatic allocation of datas, display of pictures.
Combination of several differents source data bases

Direct connection without any interface
Any data contained in these files can be edited: text, numbering, price, notes,images, barcodes, etc

3. Editing of labels is not restricted to
staggered or opposite layout of the labels are possible

4. Automatic printing of any label format
even customised, without needing to alter printer driver. Double-side printing is possible on "duplex" printers
→ Additional Features
Printack Label software can be integrated with other applications.
It can be customised to display your personal logo/colours
Available in French, German, English, Italian, Slovenian, Hungarian, Polish, Czech, Turkish, Slovak, Bulgarian, Romanian, Lithuanian, Russian,
Dutch, Croatian, Serbian, Swedish and Finnish. Other languages can be made available on request.
→ Service
Trial software package available free on request
Free training and lifetime support for our label customers.
Customising to suit your specific requirements can be arranged on request.
All requests from customers will be considered.